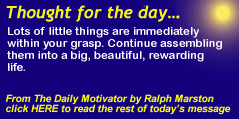 Writing With Children
How do you manage your writing career, children and household responsibilities? Please
e-mail kim@writefromhome.com your tips and suggestions and I'll post them here.
Quick Tips
1. Keep a notebook and book in your car to read or write when waiting for the kids' school bus.
2. Naptime gives me at least 1-2 hours of time to read trade magazines or write, or do homework.
3. Always have some laundry going.
4. Fold laundry when printing something off the computer.
I hope these help other parents who need to find time to write or research.
--Katherine
Create more time to write by using a crock pot or slow cooker for your evening meal. Get some tasty slow cooker recipes here.

While your child does his homework sit with him and do your home work (writing).

Work while watching your children play. When you take your child to the park or outdoors make good use of this time. This is a great opportunity to do work that doesn't require your undivided attention. Make your to-do lists, update your business/marketing plan or outline articles.
---
Articles & Columns
3 Simple Filing Guidelines
by Maria Gracia

3 Smart Scheduling Secrets
by Maria Gracia
10 Tips to Growing Your Business the Organized Way
by Maria Gracia
10 Ways to Conquer Your Reading Pile
by Maria Gracia
Add Twenty-Four Hours To Your Writing Week
by Lauri Jean Crowe
A Plan is a Beginning
by Rhoberta Shaler, PhD.
Balancing Writing and Family
by Beth Mende Conny
But Maybe Someday I'll Use This
by Linda Oatman High
Division of Labor
by Rachel Paxton
Ending the Paperwork Nightmare
by Maria Gracia
Finding the Write Time
by Carol Sjostrom Miller
Harriet's Principles for Creative Mothers
by Katherine Hauswirth
Hire the Kids
by C. Hope Clark
How Not To Procrastinate
by Shirley Kawa-Jump
How To Get Re-Motivated
by Michael Angier
How To Succeed Working At Home When You have Kids Climbing All Over You
by Dr. Kevin Nunley
Losing Your "I" Sight: Goal setting for women who work at home
by Donna Snow
Making Good Use of All Your Time
by Shelley Wake
Making Time to Write
by Kim Wilson
New Years Resolutions 2002: A Goal Setting Plan For Writers
by Carolyn Burch
Not Enough Time to Run Your Business?? Tips for Creating the Time!
by Betty Ann Wilkins
Organize Your Office Supply Cabinet
by Maria Gracia
Putz, Piddle & Procrastinate with Passion
by Judith Tramayne-Barth
Staying Organized in These Chaotic Times
by Ron Sathoff

The 4 Dís of Effective Paper Management
by Maria Gracia
The Truth About Dangling Participles
by Kathryn Elizabeth Jones
Top Ten Most Important Things To Do Today
by Michael Angier
Top Ten Ways To Handle E-mail Overload
by Michael Angier
What Happens When We Don't Make It?
by Michael Angier
When 'What You Know' Says, "No!"
by Mary Dixon Weidler
Why I Need A 16 Hour Work Day
by Joe Bingham
Words of Wisdom
by Beth Mende Conny
Writing Time, Family Time and More Writing: The Balancing Act
by Paula Schmitt
You Do Have Time to Write (and here's how to find it)
by Beth Mende Conny
---
"Minutes are worth more than money. Spend them wisely."--Thomas P. Murphy
---